Zeta C® Universal Upgrade Kit
---
You don't have to be a pilot to enjoy pain-free, stable, cooler headgear.
Oregon Aero Zeta-C® Universal Upgrade Kit
---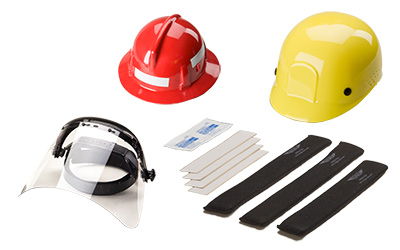 The Zeta-C® padding system provides maximum comfort, enabling you to focus on the job at hand without distraction of headgear pain. With a Zeta-C upgrade your headgear will be cooler and more stable. This kit may appear simplistic; however, the Zeta-C was designed using Oregon Aero's self-wicking fabric and pressure/temperature composite material that conforms to the wearer's head. Pressure points and "hot spots" are eliminated by equalizing pressure within the pad itself. Universal upgrade kit is easy to install and remove with low-profile adhesive-backed hook/loop strips. Pads can be hand washed and allowed to air dry.
Zeta-C Kit for welding hoods, industrial helmets, firefighting helmets, face shields, bump caps, and similar headgear.