A Letter From Mike and Jude
---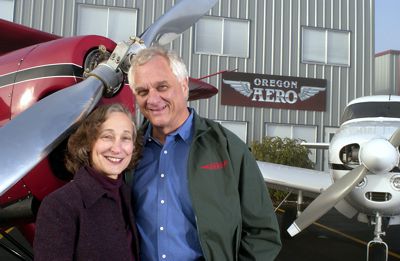 Dear Oregon Aero Customer:
We founded Oregon Aero® in 1989 with one product (a headset cushion) and one objective—to make flying more comfortable. And as advanced and complex as Oregon Aero's product engineering, craftsmanship and expertise have become since then, we're still the folks who take away the pain.
Our passion is to create innovative, effective solutions to problems that arise when the human body interfaces with manufactured hardware. There's more to solving these problems than meets the eye. For example, making seats is one thing. But enabling you to sit comfortably is another. We can do both.
In the end, what we care about is designing and manufacturing products for PEOPLE—products that provide maximum comfort, improve safety and reduce noise. We have absolute dedication to Product Performance and 100% customer satisfaction.
This website provides an overview of Oregon Aero's research and development, engineering, testing, certification and manufacturing capabilities. We also tell the story of Oregon Aero, share our core values and describe what we think sets us apart. Included are comments from a few of our many thousands of satisfied customers.
Much of this website is organized by product categories. We hope the diversity, breadth and depth of our product lines demonstrate Oregon Aero's commitment to meeting customer needs through innovative product designs that can be adapted across industries.
Mike Dennis, Founder, President & CEO
Jude Dennis, Vice President