In Memory of David Esterline
---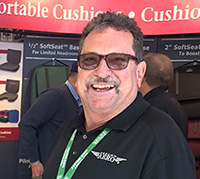 Dave passed away on December 6, 2022 following a valiant battle with cancer. A dedicated and outstanding employee with Oregon Aero for 19 years, he was a great coworker and friend to all who knew him. He is greatly missed.
Our love and sympathy are with his family.
We are accepting repair station, seat upgrades and custom cushion work; however, we are still not doing complete interior upgrades at this time. Access to our facility in Scappoose, OR remains restricted to employees only until the COVID-19 pandemic is under control. We will be happy to discuss your needs via telephone or email, and we appreciate both your understanding and your business during this global crisis.
The Ultimate in Flying Comfort™ since 1989
Oregon Aero is the leader in long-duration seating comfort. We design and manufacture seat cushions and complete seat assemblies for OEM, certified, experimental, and homebuilt aircraft as well as land and marine applications. Every branch of the U.S. military uses Oregon Aero seating. Our engineers are committed to providing comfort solutions that are optimized for the specific environment and job requirements. More than 30 years of research and development goes into every seat we build.
In addition to aircraft seating our product line includes portable seat cushions, aviation headset and helmet upgrades, ballistic helmet upgrades, industrial products and more. Oregon Aero products are backed by our 100% Satisfaction Guarantee. If you are not satisfied with your Oregon Aero, Inc product for any reason, return it to the place of purchase within 30 days of purchase, in good condition, and with the receipt, for a full refund or exchange.