Zeta III™ Helmet Liner for the HGU-56P
---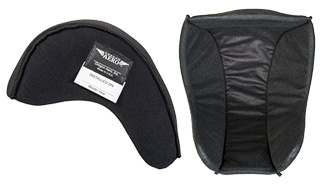 The Zeta III has been approved for use in HGU-56P helmets by PM Air Warrior.
The Zeta III is Oregon Aero's latest helmet liner designed specifically for the HGU-56P flight helmet. Upgraded with a new visco-elastic foam core, the Zeta III offers the same level of comfort, stability, and impact protection as previous models. Self-wicking fabric cover keeps your head cooler and drier by drawing moisture away. Pilots and crew members can focus more on the task at hand without the distractions of helmet pain.
Choosing the Right Zeta III Liner for your Helmet
---
The Zeta III is available in 3 different thicknesses for each helmet size. The thickness you need is determined by the number of layers in your existing Thermoplastic(TPL®) Liner.
NOTE: If your TPL(Thermo Plastic Liner) has been heated and fitted, you will probably need a Zeta III Helmet Liner one thickness thinner than listed below.
Find your Zeta III Liner Thickness
| If your TPL® Liner Has... | ...Then try a |
| --- | --- |
| 2-3 Layers | 3/8" Liner |
| 4-5 Layers | 1/2" Liner |
| 5+ Layers | 5/8" Liner |
Once you have determined the thickness you need, choose the Zeta III that matches your helmet size below. The sizing charts are intended to suggest a starting point for the fitting process. Each individual should be fitted for best comfort and stability. Oregon Aero is committed to helping you select the proper Zeta III Helmet Liner for your helmet. If you have any questions call us at 800-888-6910.
Zeta III Size Table for the HGU-56P(Click the part number# to order)

Easy Installation and Care
---
Your Oregon Aero Zeta III Helmet Liner is installed in 4 easy steps using hook/loop fastener strips. Complete instructions are included with the liner. If you would like to see how easy the Zeta III Helmet Liner is to install you can Click here to download installation instructions in PDF format.
Cleaning Instructions: Hand wash your Zeta III with mild soap and rinse thoroughly. To dry, place your helmet liner flat on a large towel. Fold the towel over to cover liner. Use a rolling pin or similar object to squeegee out the excess water. Do not wring liner. Re-Shape your helmet liner and allow it to air dry in a warm place or in front of a fan. Do Not Use Any Artificial Heat Source to Dry. Unless conditions are humid, your liner should dry overnight.
Note: Wringing your Zeta III or drying it with an artifical heat source will damage the liner. Use recommended methods of care only.