Upgrade your Seats Through our FAA Approved Repair Station
---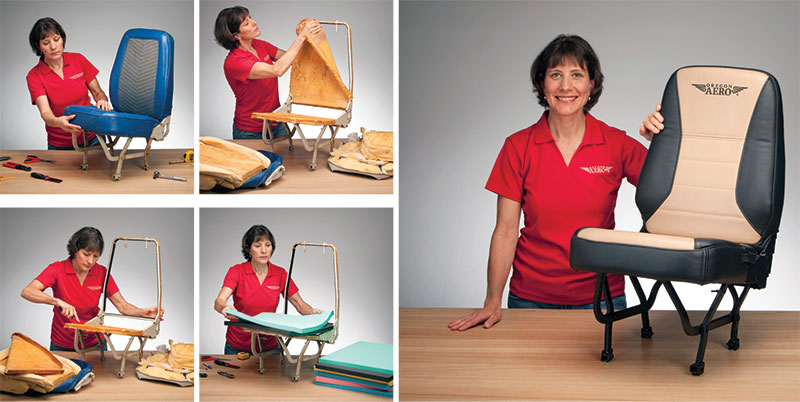 VK SmartCushion™ Upgrades for Certified Aircraft
---
Oregon Aero builds the most comfortable seating in the industry. We offer one-on-one personal service and are dedicated to 100% customer satisfaction. Our VK SmartCushion Upgrades for certified aircraft and helicopters combines state-of-the-art engineering and superb technical craftsmanship. Have peace of mind knowing your upgraded seating meets all applicable FAA regulations and flammability requirements.
How our repair station works:
Call Oregon Aero's Seat Department at 800-888-6910 to arrange to ship or bring your seat to Oregon Aero.
Once we have your seat we strip it down to the frame, inspect the frame for damage, and arrange for any repairs if necessary.
We will repaint your seat frame and install a new webbing system if required.
We build new seat cushions for your seat layer by layer using the same materials and technology that goes into our OEM and military seating systems.
We can provide custom upholstery in fabric, leather, leather and fabric, leather and sheepskin, or fabric and sheepskin. We can also add custom embroidery and offer free design consulting. Upholstery samples are available upon request.
When the job is done, we'll ship the seat back to you or you can come to our facility and pick it up.
For custom modifications and homebuilt seat cushions we may require additional information about your aircraft. Click Here to download our pre-order checklist and find out what we need to know.
Oregon Aero Upgrades Seats
---

Custom Embroidery Examples
---

Repair Station FAQ
---
How are you able to provide a seat cushion upgrade that's customized for my aircraft and for me?
Talk to us about your needs. We have more than 25 years experience engineering, testing, certifying and manufacturing advanced seating systems. Our seat cushions are designed for the specific cockpit environment. Our design engineers take into account variables of space, interface locations, and specific customer requirements. Oregon Aero seat cushions shift the hips, pelvis and back into the comfortable sitting position for maximum comfort and endurance.
Do you re-upholster the upgraded seat?
We provide custom upholstery in Fabric, Leather, Leather & Fabric, Leather & Sheepskin, and Fabric & Sheepskin. We also provide custom interior services.
Can my existing upholstery be used on my seat upgrade?
We do not re-install existing upholstery.
How long will it take for you to upgrade my seat?
Ask us when you call for an appointment. The length of time a seat remains at Oregon Aero depends on the type of work being done and our existing workload.
How do I arrange to have my seat upgraded?
Call Oregon Aero's seat department at 888-888-6910 and make an appointment. Then bring your seat to us or ship the seat via UPS, FedEx, or truck freight.
Should I disassemble my seat when I send it to you?
No! Regardless of the condition, we prefer that the upholstery and foam are intact when the seat arrives. Having the seat intact helps as we plan the upgrade. You may separate the back and bottom to make shipping easier if necessary.
Can I stop by your facility in Scappoose with my seat and talk to you about the upgrade?
Yes, we welcome customer visits to Oregon Aero. We do ask that you notify us in advance of your visit so we can schedule the appropriate amount of time for your needs. To schedule your visit, call 800-888-6910.
Can I fly to Oregon Aero and wait while you upgrade my seat?
Please call us at 800-888-6910 to discuss this option.
Do you provide other aircraft interior services?
Yes. We offer complete Aircraft Interior Upgrades, including: Side Panel Recovering, Carpet Replacement, Glare Shield Cover Replacement, Seat Belt & Webbing Replacement, Custom Leather & Fabric Upholstery, General Corrosion and Repair,* Cable Inspection & Repair* and Window Replacement.* Design consulting services are free.
(*Provided through an affiliated Repair Station #U9AR750Y, located conveniently across the tarmac from Oregon Aero's Scappoose, OR headquarters at the Scappose Airport.)
Is Oregon Aero seating FAA-compliant?
Yes. Oregon Aero Seating complies with all applicable FAA regulations.