Upgrade your Seats Through our FAA Approved Repair Station
---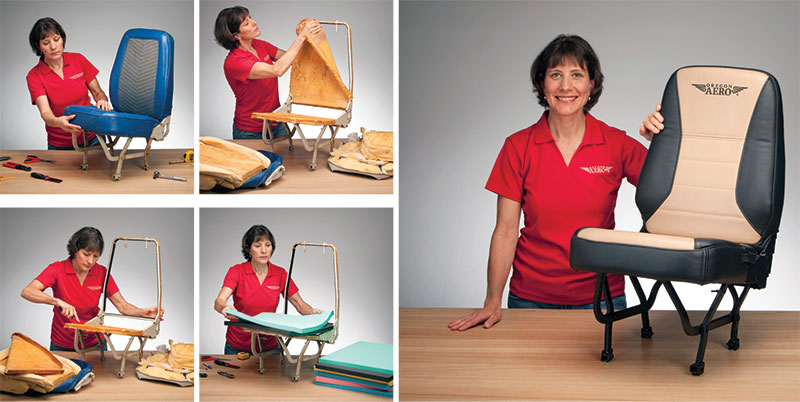 VK SmartCushion™ Upgrades for Existing Aircraft Seats
---
Upgrade your existing aircraft seating to Oregon Aero's VK-SmartCushion™ system through our FAA approved repair station. Oregon Aero seat cushion upgrades are built to the same level of comfort, quality, and craftsmanship as our OEM cushions. We build seat cushions piece by piece using as many as 11 different materials. Each piece is placed according to behavior to position you into the proper, pain-free sitting position. With Oregon Aero seat cushions you and your passengers will enjoy longer flights without distracting seat pain. After upgrading your cushions we will upholster your seats in your choice of leather, vinyl, fabric, and sheepskin materials. Custom embroidery options are also available.
How our Repair Station Works:
Contact our seat department at 800-888-6910 to discuss your needs and to arrange shipping or bringing your seats to our repair station in Scappoose, Oregon (Airport Identifier: KSPB).
When your seats arrive, we strip them down to the frames, inspect for frame damage, and arrange for any repairs if necessary.
If required, we will install new webbing.
We build new seat cushions piece by piece using the same materials and technology that goes into our OEM and military seating systems.
Once the cushions are built, we will upholster your seats in your choice of leather, vinyl, fabric, and sheepskin materials. Custom embroidery options are also available. Free upholstery samples available upon request.
When the job is done, we'll ship your seats back to you or you can drop by and pick them up.
Oregon Aero Upgraded Seats
---

Custom Embroidery Examples
---

Repair Station FAQ
---
How are you able to provide a seat cushion upgrade that's customized for my aircraft and for me?
Talk to us about your needs. We have more than 30 years experience engineering, testing, certifying, and manufacturing advanced seating systems for aircraft and other industries. Our seat cushions are designed for the specific job and cockpit environment.
Can my existing upholstery be used on my seat upgrade?
Not usually. Our cushions are built layer-upon-layer of differing materials. For maximum comfort your new cushions will likely be shaped somewhat different from the originals. The existing upholstery may not fit your new cushions properly.
How long will it take for you to upgrade my seats?
Ask us when you call. The length of time your seats remain at Oregon Aero depends on the work being done and our existing workload.
Should I disassemble my seats when I send them to you?
Nope, regardless of the condition, we prefer that the upholstery and foam are intact as it helps us plan your upgrade. You can separate the seat backs and bottoms to make shipping easier if necessary.
Can I stop by your facility in Scappoose with my seats and talk to you about the upgrade?
Yes, we welcome customer visits to Oregon Aero. We do ask that you notify us in advance of your visit so we can schedule the appropriate amount of time for your needs.
Can I fly to Oregon Aero and wait while you upgrade my seat?
Please call us to discuss this option.
Are Oregon Aero seat upgrades FAA-compliant?
Yes. Oregon Aero seat upgrades comply with all applicable FAA regulations.