Industrial Products
---
Oregon Aero Zeta-C® Universal Upgrade Kit
---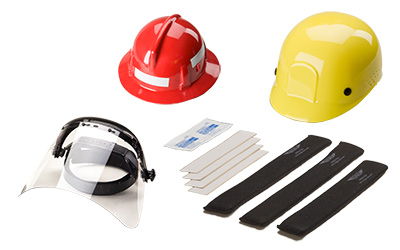 The Zeta-C® padding system provides maximum comfort, enabling you to focus on the job at hand without distraction of headgear pain. With a Zeta-C upgrade your headgear will be cooler and more stable. This kit may appear simplistic; however, the Zeta-C was designed using Oregon Aero's self-wicking fabric and pressure/temperature composite material that conforms to the wearer's head. Pressure points and "hot spots" are eliminated by equalizing pressure within the pad itself. Universal upgrade kit is easy to install and remove with low-profile adhesive-backed hook/loop strips. Pads can be hand washed and allowed to air dry.
Zeta-C Kit for welding hoods, industrial helmets, firefighting helmets, face shields, bump caps, and similar headgear.
Oregon Aero FlashPoint™ Flashlight Holder
---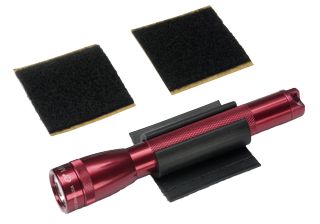 Always have a light source within reach with the Flashpoint® flashlight holder. Mount the flashlight to your helmet or headset for hands-free illumination. Keep it where you need it by attaching a flashlight to your instrument panel, dashboard, or tool box. Includes three adhesive-backed self-gripping hook/loop fastening pads. Fits most AA flashlights. Developed and manufactured by Oregon Aero.
Oregon Aero PRD™ Retainer
---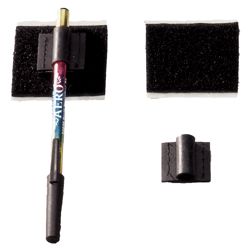 Oregon Aero PRD™ Pencil Retaining Device. Designed by Oregon Aero for the F-15 jet. Device keeps your pencil from rolling around or getting lost while not in use. Pencil retainer secures with included Hook/loop fasteners. Great for airplanes, car dashboards, boats, refrigerators, or anywhere you need to keep a pencil or pen handy.
Oregon Aero Grip Kit
---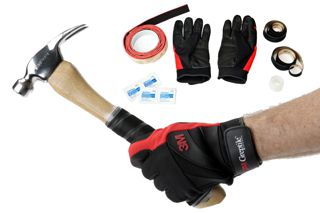 Work harder and experience less vibration/muscle fatigue with Oregon Aero's Grip Kit. The Grip Kit reduces vibration and shock generated by using hand-held tools and equipment. In addition to shock absorption you will have a better grip to hold on to for improved control. For even more gripping power this kit also includes a pair of 3M Greptile™ Gloves use with your modified tools and equipment.
The Grip Kit can be installed on claw-hammers, ball-peen hammers, hatchets, axes, air chisels, impact wrenches, hammer drills, and other tools/equipment.
6 linear feet of 1" wide Visco-Kinetic pressure and temperature sensitive, shock-absorbing tape
8 linear feet of 1" wide clear protective tape.
6 linear feet of 1" wide 3M Greptile™ grip-enhancing tape in 2-36" strips
1 pair of 3M Greptile™ grip-enhancing gloves.
4 alcohol pads for cleaning and surface preparation.
Oregon Aero Tactical Knee and Elbow Pads
---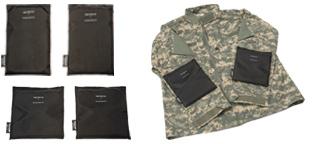 Oregon Aero developed these pain-free knee and elbow pads for the Army Combat Uniform (ACU). Comfy core padding is made up of multiple layers of moisture-wicking polymer fabric. Pads are encased within polyurethane coated nylon packcloth for maximum durability and to repel water. When worn, Oregon Aero knee and elbow pads permit full range of arm and leg motion. Hook-and-loop fastening tape secures pads inside the ACU uniform's pouches. Pads may be hand washed in a solution of mild soap and water. Air dry.
Oregon Aero Universal Folding Kneeling Pad
---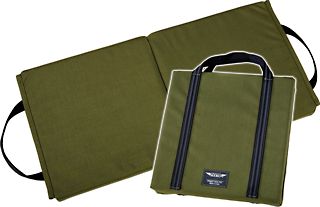 Suffering from kneeling on the job? Work longer and be comfortable with Oregon Aero's Universal Folding Kneeling Pad. Heavy duty pad is suitable for military, industrial, law enforcement, and home use. Internal cushion distributes weight evenly to eliminate those painful pressure points. Industrial strength outer cover is water resistant and holds up to the toughest jobs. Non-skid strips — on the bottom – prevent the pad from slipping on smooth surfaces. Pad folds up for more compact storage and features handy carry straps for jobs on the go. Pad measures 12" x 24" x 1" unfolded, 12" x 12" x 2" folded. Extra lead time required for orders of large quantities.