Oregon Aero Super Cushion® Stadium Cushion
---
Oregon Aero president, CEO, and founder, Mike Dennis, demonstrates the cushioning power of the Super Cushion® Stadium Cushion. Oregon Aero cushions conform to the occupant and distribute pressure evenly to maintain circulation. The result is a comfortable seat that isn't a pain in the... Please do not attempt this maneuver! If you miss the cushion you will break your kneecaps.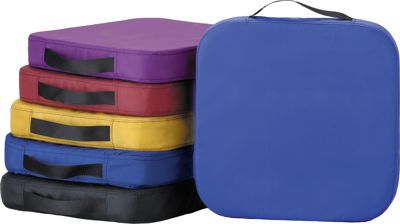 Enjoy the occasion without distracting seat pain. Just sit on it and forget about it. The Oregon Aero Super Cushion® is your comfort companion for the stadium, racetrack, tailgate, boats, chairs, and even those extended bird-watching sessions at the park. Lightweight seat cushion was built for comfort that outlasts the event. Visco-Elastic foam material distributes pressure evenly and helps maintain circulation. Cushion measures 13" square by 2" thick and has an attached carry handle for easy transport—it even floats. Available in black, blue, gold, red, and purple. Designed and made in the U.S.A. by Oregon Aero
Super Cushion® Stadium Cushion Carry Bag
---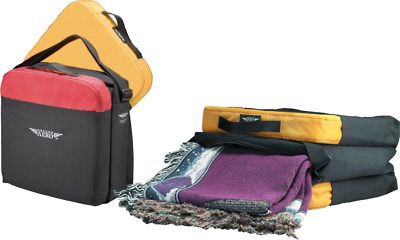 Protect your Super Cushion® Stadium cushions during transport or storage. Durable carry bag is roomy enough for two Super Cushions, a blanket, water bottles, and snacks. Hand-crafted bag is sewn in-house at by Oregon Aero. Embroidered with the Oregon Aero wings logo. 13" tall, 13" wide, and 3.5" deep. Available only in black.