Headset Upgrade Oveview
---
The World's Greatest Headset Is the One You Already Own!®—with an Oregon Aero® Upgrade!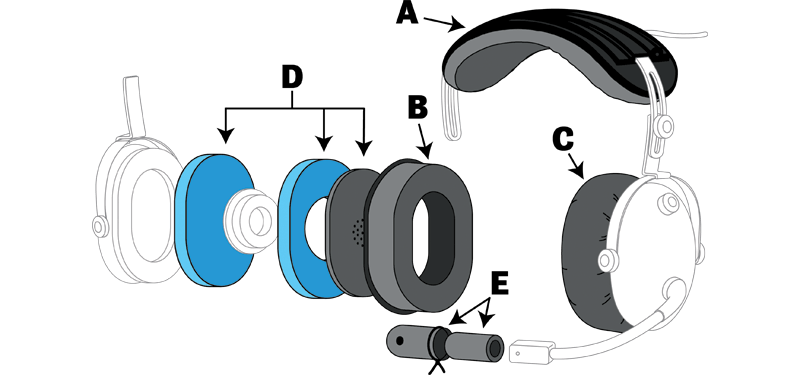 Say farewell to headset pain! Oregon Aero's five-component headset upgrade kit eliminates headset pain and improves acoustic performance. We have kits that fit more than 150 different headsets used by aviators, the military, law enforcement, and more. Headset upgrade kits have been one of our most popular products for more than 25 years.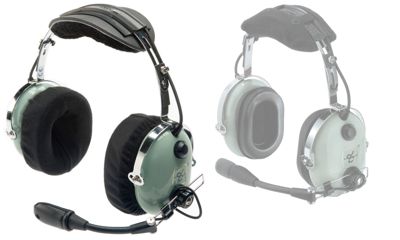 A - SoftTop® Headset Cushion
Plushy sheepskin cushion prevents pressure points by distributing pressure evenly. Self-wicking padding keeps perspiration at bay. The SoftTop is available with or without optional D-Ring attached for hanging your headset while not in use.
B - SoftSeal® Ear Cushions
Pressure and temperature sensitive foam cores mold to the shape of your head forming a tight seal—even if you wear glasses or earrings! Cushions have plenty of internal space to fit over your ears instead of flattening them. Durable synthetic leather covers are comfy and easy to clean.
C - SoftSkin® Ear Seal Covers
Keep your ears cooler and dryer. Self-wicking fabric covers draw moisture away from your ears where it can freely evaporate. SoftSkin covers are intentionally designed to fit loose so they can't create pressure or cause discomfort.
D - HushKit® Passive Ear Cup Noise Attenuation
Tame the cockpit noise! The HushKit fills the voids of your ear cups with layers of visco-elastic foam. The speaker floats inside a foam pocket instead of being fastened directly to the ear cup. This prevents environmental noise picked up by the headset from being transferred through the speaker. The result is greater clarity and intelligibility.
E - MicMuff® Microphone Cover
Enables your existing noise canceling microphone to be effective above 97dB noise levels. Two-part cover creates a chamber surrounding the microphone. This chamber limits the amount of background noise that can leak into your communications system. Note: To be effective, a MicMuff must be installed on every headset connected to your system. For a complete explanation Click Here
For ordering kits and components goto Civilian Headset Upgrade Kits or Military Headset Upgrade Kits
Headset Upgrade Kits FAQ
---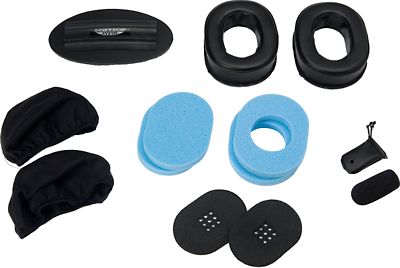 Why do you recommend the complete upgrade kit over purchasing individual components?
Each of the five components was developed to address different issues. If you leave any one of those components out, not all comfort and performance issues will be addressed. Oregon Aero headset upgrades have evolved through more than 25 years of research, testing, and feedback. Our complete kits address every issue of pain and noise. For maximum comfort and performance, get the complete kit—it's the right thing to do...
I'm not sure what kind of headset I have or which upgrade parts to order. Can you help me figure out what I need?
Yes, If you are not sure what to order, call us at 800-888-6910 and ask for Dan, our headset specialist. He can determine exactly what you need.
I don't see a headset upgrade kit listed for my headset. Can I still get an upgrade?
Most likely. Have your headset handy and call 800-888-6910 for assistance.
I'm not comfortable doing my own headset upgrade. Can you do it for me?
You bet! Just ship your headset to us. We will install your upgrade and ship your upgraded headset back to you. Be sure to include a note with your name, return address, phone number, and instructions about what you would like done. Give us a call at 800-888-6910 if you have any questions or special requirements.
Why is there a D-ring on some SoftTop® Headset Cushions?
The D-ring is an available option that allows you to conveniently hang up your headset when it is not being used.
Why do I need a MicMuff® Microphone Cover?
The short answer is... The MicMuff Microphone Cover enables a noise-canceling microphone to do its job above 97dB. In a noisy cockpit, your microphone will pick up less background noise and others will hear you with improved clarity. For a complete explanation Click Here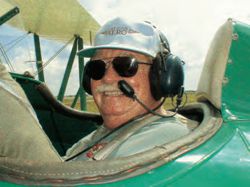 Joe Kittinger, Colonel USAF(Retired), said about wearing the Oregon Aero Upgrade while barnstorming in an open-cockpit biplane: "This headset is the most comfortable I've ever worn and I frequently wear it 11 hours at a time. The noise dampening is quite remarkable and contributes to my comfort by eliminating unwanted noise."