Aviation Helmet Upgrade Overview
---
The World's Greatest Helmet Is the One You Already Own!®—with an Oregon Aero® Upgrade!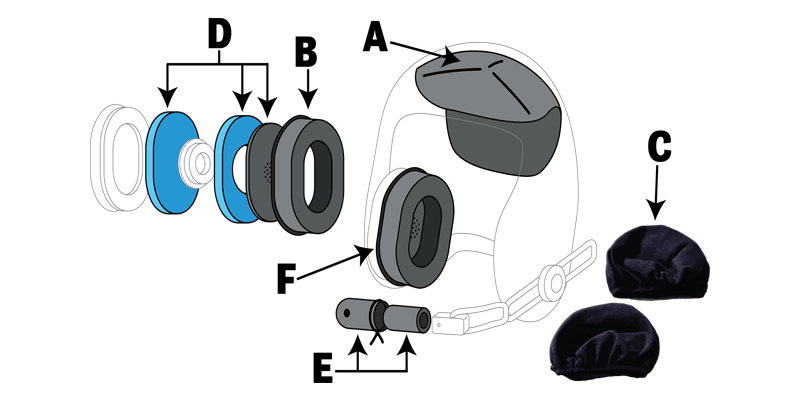 Aviation helmets have changed considerably over the years. Today's helmets are responsible for more than just wind protection. Modern helmets have mounted cameras, night vision, communications equipment, oxygen masks, and display systems. Oregon Aero understands the pain and noise issues faced by pilots, why these issues exist, and how to solve them. Oregon Aero helmet upgrades fly with 100% Success in military, law enforcement, medevac, aerobatic, and other air vehicles. Our upgrade components work together to address every issue of helmet pain and improve acoustic performance.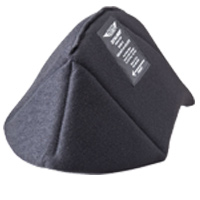 A - ZetaLiner® and Zeta III® Helmet Liners
The Oregon Aero ZetaLiner® was designed for maximum comfort, protection, and helmet stability. Self-wicking outer fabric dissipates perspiration keeping your head cooler and drier. The ZetaLiner Helmet Liner is easy to fit, install, maintain, and is equally effective while wearing Night Vision or other externally mounted equipment. The Zeta III Helmet Liner is Oregon Aero's latest liner designed specifically for the HGU-56P flight helmet. Upgraded with a new Visco-Elastic foam core, the Zeta III offers the same level of comfort, stability, and impact protection as the original ZetaLiner.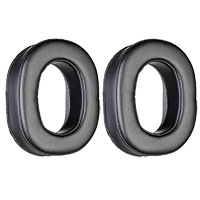 B - SoftSeal® Ear Cushions
Pressure and temperature sensitive foam cores mold to the shape of your head forming a tight seal—even if you wear glasses or earrings! Cushions have plenty of internal space to fit over your ears instead of flattening them. Durable synthetic leather covers are comfy and easy to clean.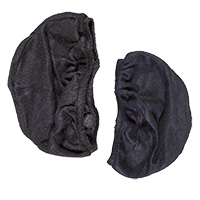 C - SoftSkin® Ear Seal Covers
Keep your ears cooler and drier! Self-wicking fabric covers draw moisture away from your ears where it can freely evaporate. SoftSkin covers are intentionally designed to fit loose so they can't create pressure or cause discomfort.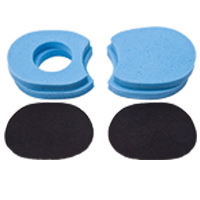 D - HushKit® Passive Ear Cup Noise Attenuation
Tame the cockpit noise! The HushKit fills the voids of your ear cups with layers of visco-elastic foam. The speaker floats inside a foam pocket instead of being fastened directly to the ear cup. This prevents environmental noise picked up by the helmet from being transferred through the speaker. The result is greater clarity and intelligibility.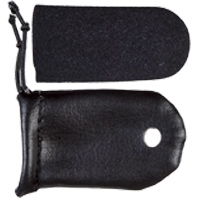 E - MicMuff® Microphone Cover
Enables your existing noise canceling microphone to be effective above 97dB noise levels. Two-part cover creates a chamber surrounding the microphone. This chamber limits the amount of background noise that can leak into your communications system. Note: To be effective, a MicMuff must be installed on every helmet connected to your system. For a complete explanation Click Here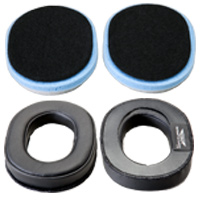 F - Assembled SoftSeal/Hushkit Combo Package
The SoftSeal/HushKit Combo includes our SoftSeal® ear cushions and the HushKit® Passive Ear Cup Noise Attenuation.
For ordering goto Civilian Helmet Upgrade Kits or Military Helmet Upgrade kits