Ballistic Helmet Upgrades Overview
---

Oregon Aero: The Ultimate in Helmet Comfort and Safety
Oregon Aero's patented ballistic helmet pads were developed in 1997 for the U.S. Army Special Operation MICH helmet. To this day our helmet pads continue to provide superior shock absorption, maximum comfort, and a multitude of other benefits — see Features and Benefits Below. Oregon Aero Ballistic Helmet upgrade Kits are available for ACH, LWH, PASGT, MICH, RBR, Protech, CVC, and other types of helmets.
Oregon Aero Ballistic Helmet Upgrade Kits:
BLSS® (Ballistic Liner and Suspension System) includes Oregon Aero helmet pads and an innovative 4 point chin strap/harness with integrated nape pad.
BLU® (Ballistic Liner Upgrade) includes 7 helmet liner pads only.
Features and Benefits
---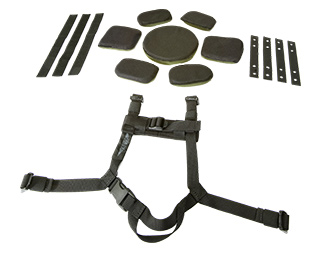 Pain-Free, no matter how long helmet is worn.
Pads minimize helmet movement and keep the helmet in place.
Upgrade kits provide superior shock absorption and blast protection.
Breathable pads let air in but keep water and sweat out.
Reduces sound reverberation for less helmet noise.
Air-permeable pads keep wearer's head cooler and drier.
Upgrades do not interfere with gas mask or night vision goggles.
Available as replacement or OEM equipment.
Positively buoyant pads enable helmet to float in water.
Waterproof tested to a depth of 66 feet for 12 hours.
Nonflammable pads will not melt or burn.
Self-wicking fabric dissipates sweat and moisture.
Pads do not cause irritation or itchiness.
Upgrade kits easily install in minutes.
Hook and loop strips keep pads securely in place.
Upgrades require no modifications to the helmet shell.
Pads are easy to clean with mild soap and water. Air dry.
Oregon Aero's ballistic helmet pads provide superior shock absorption, are pain-free, moisture- and waterproof, gas and air permeable, self-wicking, and positivety buoyant. Our patented pads were originally developed for the U.S. Army Special Operation MICH helmet.
Positively Buoyant
---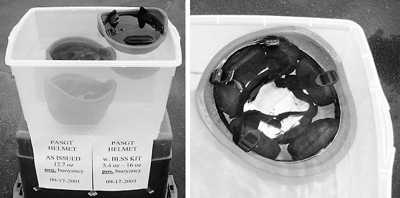 Ballistic helmets with Oregon Aero liner pads are positively buoyant, giving them the ability to float in amphibious and water-fording situations.
All components of the helmet upgrades were weighed and charted separately. Systems were submerged in fresh water and tested side-by-side. The Oregon Aero upgraded helmet proved positively buoyant. The non-upgraded helmet is negatively buoyant.
Sandard PASGT vs PASGT w/Oregon Aero BLSS® Kit

| | | |
| --- | --- | --- |
| PASGT Shell M | 3 Lb 1.3 Oz | |
| PASGT Shell L | 3 Lb 3.7 Oz | Negative 12.7 Oz |
| PASGT Shell XL | 3 Lb 15 Oz | |
| PASGT Suspension/Harness | 4.2 Oz | |
| BLSS Harness | 4.2 Oz | |
| BLU Kit #4 | 3.8 Oz | Positive 1 Lb 2.3 Oz |
| BLU Kit #6 | 5.2 Oz | Positive 1 Lb 9.1 Oz |
| BLU Kit #8 | 6 Oz | Positive 1 Lb 12.7 Oz |
| Standard PASGT Large | 3 Lb 7.9 Oz | Negative 12.7 Oz |
| PASGT w/BLSS Kit Large | 3 Lb 11.7 Oz to 13.9 Oz | Positive 5.4 to 16 Oz |
Additional Testing
---
The Oregon Aero BLSS kit padding has been subjected to and passed testing in the following conditions:
Twelve hour submersion under 66 feet of saltwater.
Exposure to fuels, oils, insect repellent, and camouflage face paint.
Proved to be compatible with gas mask and night vision goggles.
Holds up in extreme temperatures: -60°F to +160°F.
What Looks Simple — Isn't
---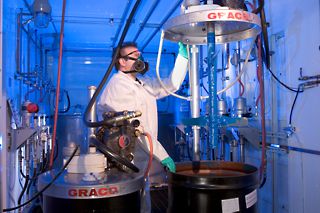 Some Oregon Aero products look simple, but in reality undergo complex research, design, and manufacturing processes. Manufacturing the patented Oregon Aero Ballistic Helmet Liner Pads requires precision engineering of multiple components. In fact, each visco-elastic pad we produce requires 55 individual components and 27 manufacturing steps.
Drums are loaded and materials are mixed to create the proprietary coating applied to each helmet liner pad. This patented coating makes Oregon Aero Helmet pads waterproof while still being air and gas permeable.
U.S. Troops Praise Helmet Upgrades
---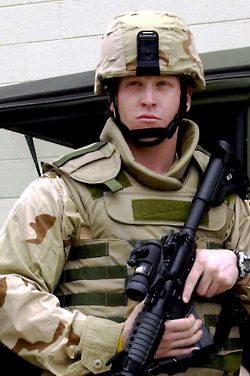 Stateside and deployed troops have confirmed that Oregon Aero Ballistic Helmet Pads and Chin Strap/Harness are a pronounced improvement over existing designs. We have received more than a thousand unsolicited comments over the years thanking Oregon Aero for making their helmets safer and more comfortable. Many of these comments came directly from troops in combat zones.
"(On) our 21-day march to Baghdad we lived in those helmets and rarely took them off. I was comfortable the whole time and not bothered by the helmet...an RPG impacted about 1 foot above my head. The concussion was so loud and so great that I was knocked to the ground along with our Corpsman HM2 (JC) who by the way was wearing your helmet liner too. We both jumped to our feet and continued in the fight. My cloth helmet cover was torn and burnt. My ears rang for about 2 days and I had an awful headache, but other than that I was in good shape. I returned home healthy and alive." — Sgt. K.D., USMC
I have fallen in love with the comfort and fitting of the BLSS Kit. I can't forget the smiles on men's and women's faces once they donned their helmet with the BLSS Kit and no longer had to live with the constant knots and pain throughout the day in Iraq. Your attention to soldiers and their comfort has made our job a lot easier." — D.S., Combat Engineer
"I 'inherited' (a BLSS Kit) from a soldier exiting the military and it has been wonderful to wear. I no longer dread putting on my Kevlar as it is no longer painful." — Sgt. J.S., U.S. Army
"I used the BLSS Kit during combat operations in Iraq, and it was magnificent! Not once did I have to think about helmet comfort, which is exactly the result desired." — 1st Lt. Price, USMC
"(I experienced) a nine months deployment that saw duty all over the globe including combat operations in Iraq. Your helmet liner system was incredible. It was almost a joy to wear the normally uncomfortable helmet. Your product made it so unbelievably comfortable. I can't say enough about this great product. Many of my friends now have it also. I let all who ask me about it know how great it is. Once they try it on, they are hooked." — HMC J.P., USN