Ballistic Helmet Upgrades Overview
---

The Ultimate in Helmet Comfort and Safety
Oregon Aero's patented ballistic helmet pads were developed in 1997 for the U.S. Army Special Operation MICH helmet. To this day our helmet pads continue to provide users with superior shock absorption, maximum comfort, and a multitude of other benefits — see Features and Benefits Below. Oregon Aero Ballistic Helmet upgrade Kits are available for ACH, LWH, PASGT, MICH, RBR, Protech, CVC, and other types of helmets.
Complete BLSS® (Ballistic Liner and Suspension System) Upgrade Kit includes 7 liner pads and our 4 point chin strap/harness with integrated nape pad.
BLU® (Ballistic Liner Upgrade) kit includes the 7 helmet liner pads only.
Features and Benefits
---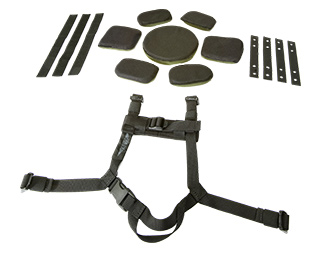 Experience pain-free comfort, no matter how long you wear your helmet.
Pads minimize helmet movement helping to keep the helmet in place.
Oregon Aero pads provide superior shock absorption and blast protection.
Breathable surfaces allow air in but keeps water and sweat out.
Self-wicking fabric covers dissipates moisture keeping your head cooler and drier.
Upgrade kit does not interfere with gas mask or night vision goggles.
Liner pads are non-flammable and will not melt in high temperatures.
Waterproof. Tested to a depth of 66 feet for 12 hours.
Positively buoyant pads enable helmet to float in water.
Pads do not cause irritation or itchiness.
Upgrade kit is easy install in minutes.
Hook and loop fastener strips grip and keep pads securely in place.
Upgrade kit requires no modifications to the helmet shell.
Reduces internal sound reverberation for reduced helmet noise.
Pads are easy to clean with mild soap and water. Air dry.
Feedback from the Field. April 22, 2017
---
Good Afternoon Sir,
We just received your helmet pads and wanted to provide some feedback. In order to ensure our gratitude is effectively transcribed, I am typing a play-by-play reenactment:
1. Received the box and looked at the shipping label, identified the sender, and immediately gathered a few of our deployers for the unboxing.
2. Sliced open the packing tape, opened the box and for those who saw the Oregon Aero name, well their eyes got a little bigger.
3. Handed out the first few helmet pad kits and people performed the "squish" test, followed by an audible "heck yes!" and a grin from ear to ear.
4. One person ripped open the package, installed the pads in their ACH, and used some strong words to explain how amazing the new pads felt. The next person installed Oregon Aero pads and instantly regretted purchasing that other brand (he intends to return them). As for our Commander, who considered purchasing his own helmet to resolve the fit issues, he has changed his tune. After trying the Oregon Aero helmet pads, he made comments to the effect of "Outstanding!", "thoroughly impressed", and "this is how a helmet should fit".
I personally cannot believe the difference between the MSA pads and the Oregon Aero pads...night and day difference. The Oregon Aero pads conform to your head, provide an incredible fit, and still appear to have plenty of cushion remaining to protect your skull in the event of an impact. It is hard to fathom why there was a switch from Oregon Aero pads to, well, anything else!
As more of our deployers put the Oregon Aero Helmet Pad Kits (graciously provided by Operation Helmet) to the test, I will continue to give more feedback and plan to send updates as our deployment is underway.
A MASSIVE THANK YOU to you Sir, Operation Helmet, and all of the volunteers and donors who make your program a reality! Our brains literally thank you for making our equipment work with us, rather than against us.
Take care and have a great day.
Very Respectfully,
CAPT, USAF
Performance and Testing
---
Oregon Aero's ballistic helmet pads provide superior shock absorption, are pain-free, moisture- and waterproof, gas and air permeable, self-wicking, and positivety buoyant. Our patented pads were originally developed for the U.S. Army Special Operation MICH helmet.
Positively Buoyant
---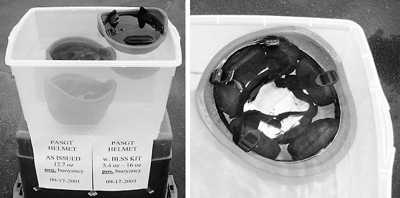 Ballistic helmets with Oregon Aero liner pads are positively buoyant, giving them the ability to float in amphibious and water-fording situations.
All components of the helmet upgrades were weighed and charted separately. Systems were submerged in fresh water and tested side-by-side. The Oregon Aero upgraded helmet proved positively buoyant. The non-upgraded helmet is negatively buoyant.
Sandard PASGT vs PASGT w/Oregon Aero BLSS® Kit

| | | |
| --- | --- | --- |
| PASGT Shell M | 3 Lb 1.3 Oz | |
| PASGT Shell L | 3 Lb 3.7 Oz | Negative 12.7 Oz |
| PASGT Shell XL | 3 Lb 15 Oz | |
| PASGT Suspension/Harness | 4.2 Oz | |
| BLSS Harness | 4.2 Oz | |
| BLU Kit #4 | 3.8 Oz | Positive 1 Lb 2.3 Oz |
| BLU Kit #6 | 5.2 Oz | Positive 1 Lb 9.1 Oz |
| BLU Kit #8 | 6 Oz | Positive 1 Lb 12.7 Oz |
| Standard PASGT Large | 3 Lb 7.9 Oz | Negative 12.7 Oz |
| PASGT w/BLSS Kit Large | 3 Lb 11.7 Oz to 13.9 Oz | Positive 5.4 to 16 Oz |
Additional Testing
---
The Oregon Aero BLSS kit padding has been subjected to and passed testing in the following conditions:
Twelve hour submersion under 66 feet of saltwater.
Exposure to fuels, oils, insect repellent, and camouflage face paint.
Proved to be compatible with gas mask and night vision goggles.
Holds up in extreme temperatures: -60°F to +160°F.
What Looks Simple — Isn't
---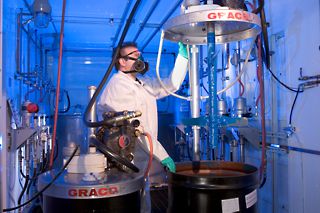 Some Oregon Aero products look simple, but in reality undergo complex research, design, and manufacturing processes. Manufacturing the patented Oregon Aero Ballistic Helmet Liner Pads requires precision engineering of multiple components. In fact, each visco-elastic pad we produce requires 55 individual components and 27 manufacturing steps.
Drums are loaded and materials are mixed to create the proprietary coating applied to each helmet liner pad. This patented coating makes Oregon Aero Helmet pads waterproof while still being air and gas permeable.