Ballistic Helmet Testing
---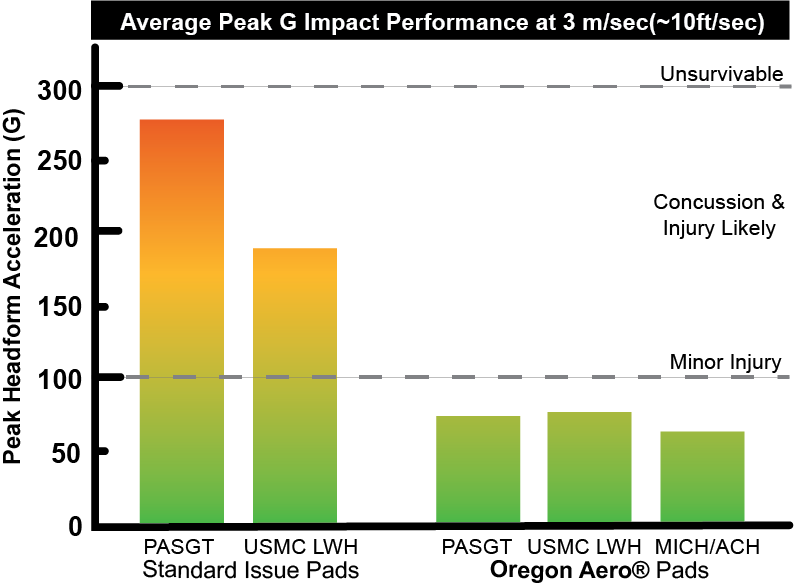 Oregon Aero's ballistic helmet pads provide superior shock absorption, are pain-free, moisture- and waterproof, gas and air permeable, self-wicking, and positively buoyant. Our patented pads were originally developed for the U.S. Army Special Operation MICH helmet.
Positively Buoyant
---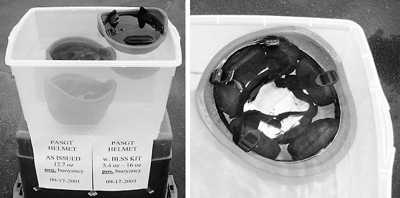 Ballistic helmets with Oregon Aero liner pads are positively buoyant, giving them the ability to float in amphibious and water-fording situations.
In this test all stock components and Oregon Aero upgrades were weighed and charted separately. The assembled helmets were submerged in fresh water and tested side-by-side. The Oregon Aero upgraded helmet proved positively buoyant and remained afloat while the non-upgraded helmet sank to the bottom.
Standard PASGT vs PASGT w/Oregon Aero BLSS® Kit

| | | |
| --- | --- | --- |
| PASGT Shell M | 3 Lb 1.3 Oz | |
| PASGT Shell L | 3 Lb 3.7 Oz | Negative 12.7 Oz |
| PASGT Shell XL | 3 Lb 15 Oz | |
| PASGT Suspension/Harness | 4.2 Oz | |
| BLSS Harness | 4.2 Oz | |
| BLU Kit #4 | 3.8 Oz | Positive 1 Lb 2.3 Oz |
| BLU Kit #6 | 5.2 Oz | Positive 1 Lb 9.1 Oz |
| BLU Kit #8 | 6 Oz | Positive 1 Lb 12.7 Oz |
| Standard PASGT Large | 3 Lb 7.9 Oz | Negative 12.7 Oz |
| PASGT w/BLSS Kit Large | 3 Lb 11.7 Oz to 13.9 Oz | Positive 5.4 to 16 Oz |
Additional Testing
---
The Oregon Aero BLSS® kit padding has been subjected to and passed testing in the following conditions:
Twelve hour submersion under 66 feet of saltwater
Exposure to fuels, oils, insect repellent, and camouflage face paint
Proved to be compatible with gas mask and night vision goggles
Holds up in extreme temperatures: -60°F to +160°F
What's inside the pads?
---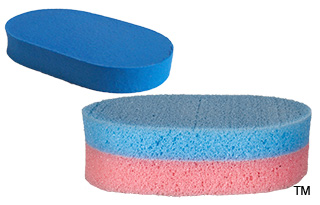 Oregon Aero ballistic helmet pads have two layers of Visco-Elastic foam. The blue layer rests against the helmet and provides a firm foundation for impact protection. The pink layer faces the wearer and is more supple. This layer conforms to your contours for a snug and comfortable fit. The Helmet Cushioning Pad Core Pink and Blue Edge Color pads are coated with our proprietary moisture and waterproof yet gas permeable coating.
What Looks Simple—Isn't
---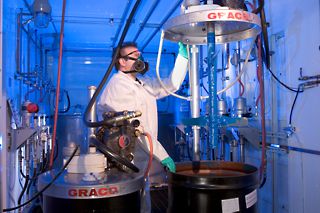 Some Oregon Aero products look simple, but in reality undergo complex research, design, and manufacturing processes. Manufacturing the patented Oregon Aero Ballistic Helmet Liner Pads requires precision engineering of multiple components. In fact, each visco-elastic pad we produce requires 55 individual components and 27 manufacturing steps.
Drums are loaded and materials are mixed to create the proprietary coating applied to each helmet liner pad. This patented coating makes Oregon Aero Helmet pads waterproof and positively buoyant.