Military Land and Marine Seating
---
In addition to aviation seating, Oregon Aero designs and manufactures maximum comfort seating for military land and marine vehicles. Oregon Aero seating is not only about comfort. Our seat designers also take into account safety, required functionality, performance, environment, and the vehicle's purpose. Oregon Aero has more than 30 years experience engineering, testing, certifying, and manufacturing advanced seating systems. Give us a call at 800-888-6910 to discuss your seating needs.
Multi-Purpose Land Vehicles
---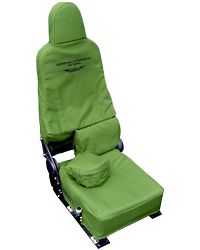 One of our military, land-based seating jobs was for the General Dynamics Land Systems RST-V (Reconnaissance, Surveillance, Targeting Vehicle).
The High-G® energy-absorbing seats engineered for this project are fully adjustable fore and aft. The front seats fold back flat and can be reconfigured instantly. Removable lumbar cushions were designed to accommodate personal equipment. Oregon Aero's custom seats keep occupants free from seat discomfort — even during missions spanning several days. Oregon Aero seating can be adapted to a variety of applications and operating conditions.
U.S. Army Concept Technology
---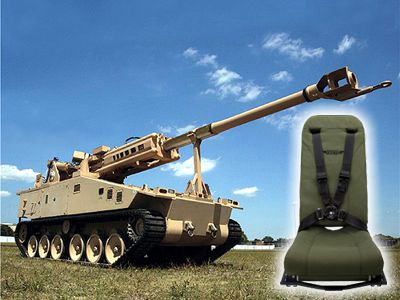 The Oregon Aero High-G 25 Seat was designed for the BAE Systems NLOS-C (Non-Line-Of-Sight Cannon). The NLOS-C was developed by BAE Systems for the U.S. Army as a concept for future combat systems. The energy-absorbing Oregon Aero High-G seating system includes the complete frame and assembly, operating mechanisms, and seat cushion system.
Stryker Seat Cushions
---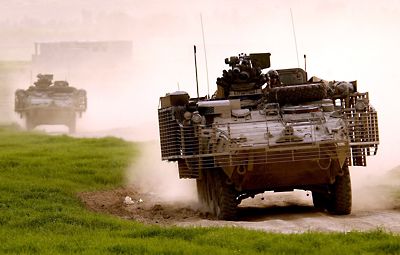 Oregon Aero designs and manufactures Seat Cushion Systems for the U.S. Army Stryker vehicle. One Army Staff Sergeant wrote from combat conditions in Iraq: "The seats you sent out were exceptional and have lasted all this time. The crew that has (the Oregon Aero® Cushions) loves them and guards them all the time so no one will take them."
Maritime Seating
---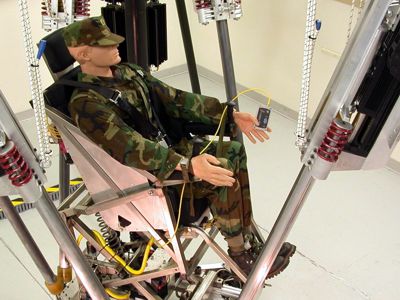 Oregon Aero has developed and manufactured seating for a variety of marine applications. One of our marine projects was for high-speed military boats. The crew members and passengers of these boats were subjected to shock forces up to 6G's every 1/2 to 1 second. Needless to say, these intense forces made for an unpleasant ride that could cause injuries over time. Oregon Aero's High-G® aircraft seats were modified and fitted in these boats to significantly reduce shock loads.
HMMWV (HUMVEE®) Seat Cushion System
---
The Oregon Aero Seat Cushion System for the High Mobility Multipurpose Wheeled Vehicle (HMMWV — HUMVEE Vehicle) is energy-absorbing, pain-free, and durable. Users consistently give the cushions top evaluations. For ordering: Click Here!
The front passenger seat cushion features an internal thermal barrier and external foil-faced reflector to keep heat from the battery box out of the seat cushion and away from the passenger.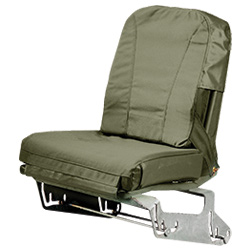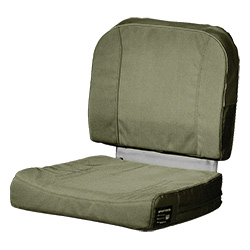 Here's what a 27-year military officer had to say about the Oregon Aero Seat Cushion Systems for the HMMWV seats after a two-week evaluation:
"We did a 477 mile convoy, approximately 18 hours each way, with only scheduled ten minute breaks and one 60-minute halt for fuel and chow. During this time I had no discomfort from the Oregon Aero® (Seat Cushions). They remained secure in place, they provide good cushioning and did not develop any hot spots. The seats are very good in wet weather. After a rain, I would wipe off the excess water and the seats would dry in minutes. The issued seats would have stayed wet for hours. My driver and various other passengers all had very positive comments." — LTC C.N.S., Kentucky National Guard
Custom Seat Cushions with Custom Upholstery
---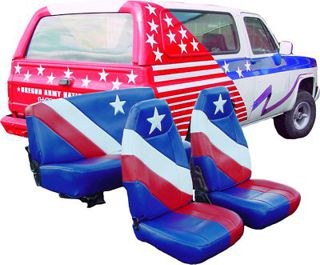 Some of our seating projects require extra creativity. Oregon Aero's innovative seat designers are always up to the task. For one such project, we upgraded the front and rear seat cushions and provided custom upholstery for this Oregon Army National Guard recruitment vehicle. Give us a call at 800-888-6910 to discuss your custom seating needs for manufactured or even homebuilt land vehicles.
Cushions Designed for Oregon Air National Guard
---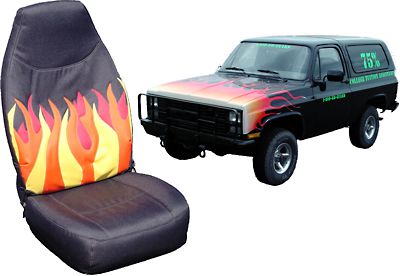 Oregon Aero seats are designed for the specific application and environment. In this case, we created seat cushions and custom upholstery for an Oregon Air National Guard vehicle. Now Guard personnel can be comfortable, no matter how long they're in the driver or passenger seats.
Call Oregon Aero at 800-888-6910 to Discuss Solutions for your Land-Vehicle or Marine Seating needs.